ProMedica Corporate Office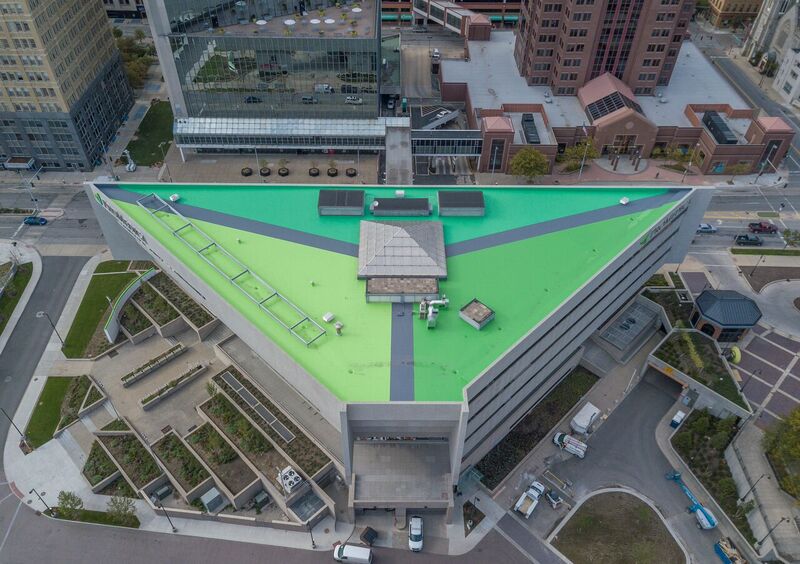 Location: Toledo, Ohio
Project Type: Specialty Roofing
Project Name: ProMedica Corporate Office
Foremen: Cesar R.
Square Footage:
Year Completed: 2017
State:
Project Profile: ProMedica Campus (Toledo, Ohio)
The Advanced Construction Group completes colorful rooftop design in downtown Toledo
By Ken Krych |  Photos courtesy of Advanced Roofing Services
Individuals working within downtown Toledo buildings now have a colorful addition to their view of the surrounding skyline. Visible from throughout the city, the unique, multi-shade green logo of ProMedica has been skillfully and prominently emblazoned atop the health care network's downtown headquarters by Advanced Roofing Services, a division of The Advanced Construction Group, of Maumee.
The rooftop is part of an approximately $60 million, multiphase project at ProMedica's new headquarters, which included renovation of the historic Toledo Steam Plant and KeyBank Building (now named The Junction), as well as extensive upgrades to Promenade Park along the shore of the Maumee River.
Advanced Roofing Services won the $300,000 design/build contract to complete one of the last stages of the project: the renovation and replacement of the 30-year-old, 70-foot-high, ballasted EPDM roof, which is supported by structural steel metal framework with a metal roof deck. The team was charged with a complete tear-off, power wash and replacement of a new black EPDM roofing system all in six days.
"This was challenging for a number of reasons," says Brian Ostrowski, VP of operations at The Advanced Construction Group. "Due to the schedule, we had 23 men working on the initial roof replacement. We had to accomplish this with